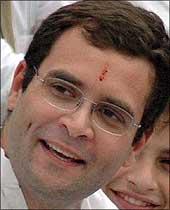 Two teenaged boys were arrested on Thursday in connection with the stoning of the Shatabdi Express in which Rahul Gandhi was traveling on Tuesday night.
The boys, aged 14 and 16, admitted to stoning the Amritsar-New Delhi Shatabdi Express on Tuesday night and said they did so for the fun of it, without any criminal intention, and did not know Rahul was on the train, Rohtak Range Inspector General of Police V Kamraj said, adding that the case has been solved.
Earlier, the police detained three teenagers, aged 14, 16 and 19, on suspicion and two of them were arrested while the 19-year-old was let off. The duo have admitted to their involvement and revealed that they used to throw stones intermittently on the trains earlier too, Kamraj said.
The two boys were arrested from a colony in Nasib Vihar in Karnal district's Gharaunda, which is close to the spot where the stoning took place, and were booked under Section 152 (damaging railway property) of the Indian Railways Act, he said.
Asked if they knew whether Rahul, an All India Congress Committee general secretary, was on board the train on Tuesday night, Kamraj said, "One of the arrested boys told us that they had no knowledge about him being on the train".
"Humko thodey patha tha ki Rahul Gandhi us train may safar kar rahein hein (we had no knowledge that Rahul Gandhi was traveling in the train)," Kamraj said, quoting one of the arrested boys, both of whom come from a poor background.
While one boy has received some education, the 14-year-old has never gone to school, he added.
Window panes of six coaches of the Amritsar-New Delhi Shatabdi Express carrying Gandhi, who had boarded the train at Ludhiana, were damaged in the stoning, including the one in which the Congress leader was traveling. However, no one was hurt.
After the incident, the Government Railway Police, Panipat, registered a case under Section 152 (damaging railway property) of the Indian Railways Act against unidentified persons.
Broken glass pieces and some stones found in the train have already been sent for examination to the Forensic Laboratory at Madhuban in Karnal district.
As the train was moving at a slow speed, the guard of the train reported having seen three to four young men throwing stones at the coaches. According to Kamaraj, the guard of the train told the police that the train was moving at a slow speed near Anaj Mandi in Gharaunda area of Karnal district, due to some repair work on the tracks on the Karnal-Panipat section.
The guard also shouted at the young men, warning them not to pelt stones, but by then the window panes of some bogies had already suffered damage. The guard, he said, was in his cabin at the rear end of the train.
The guard had said that he could not clearly see the faces of the youths due to the darkness.