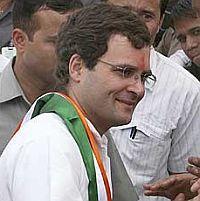 The Amritsar-New Delhi Shatabdi Express carrying Rahul Gandhi was stoned late Tuesday night near Panipat, damaging the windowpanes of five coaches, including the one in which the Congress leader was seated.
There were no reports of any injury to any passenger while SPG sources said there was no threat to Rahul in the incident.
Window panes of coaches C1, C2, C3, C4, C7 and C8 were broken when some children stoned the train while it was approaching a rail crossing near Ghokrunda station in Panipat district in Haryana, according to a Northern Railways spokesman.
The train was travelling at a speed of 20 km per hour at the time of the incident, he said.
The spokesman said 39-year-old Rahul was in the C-3 bogie amid reports that Rahul was not perturbed by the incident.
A crack developed in the window of the C-3 compartment while the windowpane of the adjacent coach C2 was badly damaged, found a PTI correspondent who saw the train on its return to New Delhi railway station late in the night.
Rahul was returning to New Delhi from Ludhiana where he boarded the train after addressing Youth Congrress workers in Punjab. The spokesman said the train did not halt and continued with its journey.