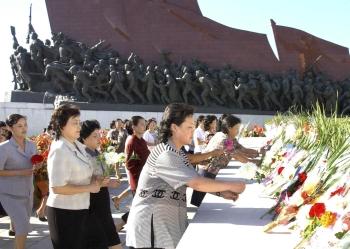 Besides violent extremist groups like Al Qaeda, America's top intelligence agency has identified North Korea, Iran, China and Russia as countries which have the ability to challenge United States' interests in traditional and emerging ways.
The 2009 National Intelligence Strategy, released on Tuesday, by the director of National Intelligence, said that Iran poses an array of challenges to US security objectives in the Middle East and beyond, because of its nuclear and missile programmes, support of terrorism, and provision of lethal aid to adversaries.
North Korea continues to threaten peace and security in East Asia because of its sustained pursuit of nuclear and ballistic missile capabilities, its transfer of these capabilities to third parties, its erratic behaviour and its large conventional military capability, it said.
Although China shares many interests with the United States, its increasing natural resource-focused diplomacy and military modernisation are among the factors making it a complex global challenge, said the report.
Similarly, Russia is a US partner in important initiatives such as securing fissile material and combating nuclear terrorism, but it may continue to seek avenues for reasserting power and influence in ways that complicate US interests.
According to the report, violent extremist groups are planning to use terrorism, including the possible use of nuclear weapons or devices, if they can acquire them to attack the US.
Working in a number of regions, these groups aim to derail the rule of law, erode societal order, attack America's strategic partners, and otherwise challenge US interests worldwide. Insurgents too are attempting to destabilise vulnerable states in regions of strategic interest to the US, it said.
In a telephonic press conference, Director of National Intelligence Dennis Blair said both China and Russia are very aggressive in the cyber world. He added that US government spends nearly $75 billion a year on intelligence.
"In Western Pakistan, Al Qaeda, of course, has an avowed goal of conducting attacks on the United States, it is seeking a safe haven from various Taliban groups in western Pakistan and eastern Afghanistan," he said.
"And these groups have more recently also said that they are in favour of attacks in the West. So it's a shifting calculus, but it's fundamentally based on the harm that they would do to the United States' troops and allies," he said.
Image: North Koreans offer flowers to a statue of state founder Kim Il-sung to commemorate the 61st anniversary of the founding of the state in Pyongyang | Photograph: Reuters/KCNA