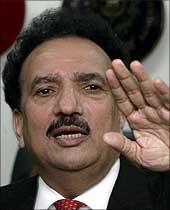 Pakistan on Friday claimed that the trial of Lashkar-e-Tayiba operatives arrested for their involvement in the 2008 Mumbai attacks would be completed within four months, but also sought more time to examine the evidence provided by India against the terror group's founder Hafiz Mohammad Saeed.
Refuting the contention of Indian leaders like Home Minister P Chidambaram that there had been no progress in Pakistan in acting on the perpetrators of 26/11 attacks, Interior Minister Rehman Malik said, "I challenge you and say the trial (of the suspects) has started."
"After (the festival of) Eid, day-to-day hearings will be held and proceedings will be completed within the prescribed time limit," he said, adding it would take around two-and-half months to four months for the trial to be completed.
Five LeT operatives arrested earlier had already been chargesheeted, while charges against two others recently arrested will be filed soon, he told reporters.
Malik said Pakistan had already acknowledged that "part of the conspiracy" behind the Mumbai attacks was hatched by "non-state actors in Pakistan".
"Don't suspect our motives," he said, adding that LeT operations commander Zakiur Rehman Lakhvi, described by India as the mastermind of the attacks, had been arrested along with several aides.
Malik said Pakistan needed more time to examine the latest Indian dossier on the Mumbai attacks which contained LeT operative Ajmal Kasab's statements about his meetings with Hafiz Mohammad Saeed, who is also the chief of the outlawed Jamaat-ud-Dawa, and other alleged militant leaders.
"Give us an opportunity to examine what is a mere statement. Give us an opportunity to go and see the locations (Kasab) has spoken of (where he met Saeed). Let us do our verification, for which we need time," Malik said.
"We are examining your evidence. We have not said that the evidence is not good," he said.
India has been insisting that Pakistan should take action against Saeed, who was freed after nearly six months of house arrest on the orders of the Lahore high court in June. New Delhi has said it has provided Islamabad adequate information linking Saeed to the planning and execution of the Mumbai attacks.
But Malik said any step taken against Saeed would have to stand up to scrutiny by Pakistan's judiciary. "We have to face the court. Today he (Chidambaram) said that Hafiz Saeed is not being tried, no case is being prepared against him.
"We arrested him when a UN embargo was applied, but our court bailed him out. The matter is sub judice; and for God's sake, respect our courts. We respect your courts too."
Malik took several digs at Chidambaram, who is currently visiting the US where he conveyed India's concerns over Pakistan not taking action against the LeT and Saeed.
Image: Pakistan Interior Minister Rehman Malik