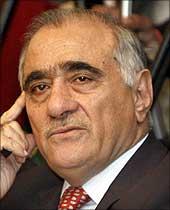 Major General (retd) Mahmood Ali Durrani, who was sacked as the Pakistan's National Security Advisor after he acknowledged Ajmal Kasab's Pakistani nationality, has insisted that Jamaat-ud-Dawa chief Hafiz Saeed had no role in the 26/11 terror strikes and has asked New Delhi not to "push" Islamabad.
He said India and Pakistan should set up a joint investigative team into the Mumbai attacks, rather than New Delhi sending "pieces of paper" (of information on the attack).
He took objection to the statements by India that Pakistan was not doing enough on the Mumbai attacks, particularly in connection to Hafiz Saeed, saying New Delhi should be "understanding" instead of "pushing us".
Speaking in New Delhi, he insisted that Pakistan was doing all it can to arrest and prosecute the perpetrators of Mumbai attacks, but it was not being acknowledged by India.
When referred to Saeed, who continues to be a free man despite India's assertion that "enough proof" has been given about his involvement in 26/11, Durrani claimed, "We have found no linkage and you have given us zero proof... Genuinely there is no evidence. Shall we arrest him without reason? Can you do it here?"
After the Mumbai attacks, Durrani was the first Pakistani functionary to acknowledge the Pakistan nationality of Ajmal Kasab, the lone terrorist arrested in the three-day terror attacks; soon after that statement, he was sacked on January 7.
"All the telephonic transcripts (given by India), which were relevant, were used. You gave us information, we investigated. You gave us five names, we have arrested seven people. Then we have put out a list for 11 (absconding) people. We have gone beyond that," the former Pakistani NSA said.
"Everybody seems to have forgotten that and everybody has latched onto Saeed. Yaar uski jaan choro (Spare his life). To hell with the chap," Durrani, who was here in connection with an Observer Research Foundation Lecture, said.
He termed as "incorrect" the assertion by Home Minister P Chidambaram that "cogent and concrete" evidence had been given to Pakistan detailing how Saeed was involved in the Mumbai attack.
"I can't say it is nonsense because it is a senior minister who is saying this. But it is incorrect. There is no truth in this. He (Saeed) is not involved," he said, adding, "There has been a split, Al Qaeda is different, he is different."
He added that making "statements like this" would not help the relationship.
Durrani was also dismissive about the red corner notice issued by the Interpol against Saeed recently. "It means nothing in terms of investigation. Red tag means 'you watch' him. He is under watch. He was even put in protective custody and what happened? The court threw it out, saying there is no evidence."
Durrani also countered Chidambaram's contention that the role of Pakistani establishment in the Mumbai attacks could not be ruled out.
"There is a perception here that military or ISI was involved (in the Mumbai attacks). I know for sure, for 110 percent, they were not involved. They were as surprised as your people were," the former NSA contended.
"In fact, our intelligence services say if India had shared information that something is going to happen, may be we could have helped in stalling (it)," he said.
Laying emphasis on cooperation between the two countries, Durrani said Pakistan is "literally at war" against terrorism and "this is time when we need help, we need understanding by India, rather than pushing us".
Asked whether India was "pushing" Pakistan, he replied, "This (talk about) Saeed and all, (saying Pakistan is) not doing enough -- isn't this pushing?"
The former NSA said the "very deep-rooted mistrust" between India and Pakistan was "one of the biggest problems" and "there is no magic wand that you wave and mistrust goes. It can only be small and incremental steps of confidence building that will remove the mistrust".
When pointed out that the mistrust had only grown after the Mumbai attacks as India felt that Pakistan is taking only superficial actions, Durrani said, "This is sad."
Image: Former Pakistan NSA Mahmood Ali Durrani | Photograph: Mian Kursheed/Reuters