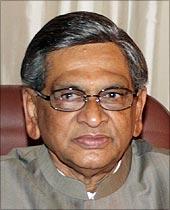 India on Thursday put on Pakistan the onus of unveiling the conspiracy behind the terror attack on Mumbai and ruled out meaningful dialogue till concrete action is taken against those responsible.
The firm message was sent out by External Affairs Minister S M Krishna, ahead of his meeting with his Pakistani counterpart Shah Mehmood Qureshi in New York later this month, on the sidelines of the United Nations General Assembly.
On the eve of the ministerial meeting, foreign secretaries Nirupama Rao and Salman Bashir will meet to discuss the progress on the investigation of the 26/11 attacks and the prosecution of those arrested in connection with it.
"It is in our vital interest to normalise our relations with Pakistan. However, we are at a stage where it is for Pakistan to determine the kind of relationship that it wants to have with India," Krishna said while addressing the Editors Guild in New Delhi. Talking about the Mumbai terror attacks, he said it was launched from Pakistan and the conspiracy was hatched there.
"Clearly, the onus is on Pakistan to unveil the conspiracy," he said, adding that India had sought to 'assist' them in that task by providing vital evidence.
Krishna virtually rejected Pakistan's contention that that composite dialogue, halted after the Mumbai attacks, should be resumed as it was the 'only sensible way' to resolve issues.
"Any meaningful dialogue with Pakistan can only be based on the fulfillment of its commitment, in letter and spirit, not to allow its territory to be used in any manner for terrorist activities against India," he asserted.
Krishna said India was conducting the composite dialogue with 'utmost sincerity' till the Mumbai attacks. "But we cannot have terrorism and negotiations at the same time. Pakistan has to prove its credentials by implementing its assurances," he added.
India maintains that if Pakistan was serious about the resumption of the dialogue process, it would have to take tangible action against perpetrators of the Mumbai attacks.
He was asked why the foreign secretaries had not met so far as the two sides had reached an understanding in Sharm-el Sheikh in Egypt that they would meet. "The foreign secretaries will meet in New York (on the sidelines of the UNGA). After that, foreign ministers will also meet," Krishna said.