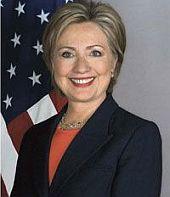 As US Secretary of State Hillary Clinton hit out at Pakistan for failing to crackdown on Al-Qaeda, the White House on Friday came out in support of her "straight talk" with Pakistani leaders.
"We have been in ongoing conversations with the Pakistanis about ways that they can address and go after violent extremists in their country that threaten both Pakistan and the US. So I think the remarks were completely appropriate," said White House Press Secretary Robert Gibbs.
He was replying to questions about remarks made by Clinton in Pakistan about Islamabad's silence on the whereabouts of Al-Qaeda leaders.
Gibbs nodded his head in affirmative when asked if the White House thinks the remarks of Clinton were appropriate.
"Obviously, in those relationships we expect that both sides would expect the others working constructively to address concerns in that relationship," he said.
"Obviously the United States has great concern about extremists in Pakistan. We will continue to discuss with them what can be done. And those remarks were appropriate."
Clinton not only took Pakistan to task for failing to crack down on Al Qaeda, she bluntly told the country that the US finds it difficult to believe that Pakistani government cannot locate Osama bin Laden.
Defending her "straight talk", Clinton said: "I'm an American. And I think we have every reason to say, look, we are applauding the resolve you're showing in going after the Taliban extremists who threaten you."
"But let's not forget they are now part of a terrorist syndicate that in classic syndicate terms would be headed by the Al Qaeda," Clinton told CNN in an interview.
"What I was responding to is what I've been really doing on this trip, which is that there exists a trust deficit certainly on the part of the Pakistanis toward the United States, toward our intentions and our actions," she said in response to a question.
"But trust is a two-way street. And I think it's important if we're going to have the kind of cooperative partnership that I think is in the best interest of both of our countries for me to express some of the questions that are on the minds of the American people," she said.
In a separate interview with the BBC, Clinton said the "trust deficit" is a challenge to the kind of relationship that President Barack Obama and she believe is both possible and necessary with Pakistan.
"But it is also clear, as I have stated both publicly and privately, that we have questions that we are also seeking answers for. What I'm trying to do is to create a more open relationship, not only between our governments, but between our people," she said.
Clinton said it is just a fact that Al Qaeda had sought refuge in Pakistan after the United States and its allies went after them because of the attack on 9/11.
Image: US Secretary of State Hillary Clinton