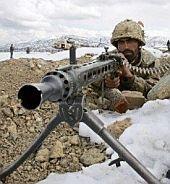 United States Secretary of State Hillary Clinton has questioned Pakistan's commitment to hunt top Al-Qaeda leadership hiding inside the country and accused it of failing to track them down.
"Al-Qaeda has had safe haven in Pakistan since 2002. I find it hard to believe that nobody in your government knows where they are and couldn't get them if they really wanted to," Clinton told a group of senior Pakistani journalists in Lahore on Thursday.
"Maybe that's the case, maybe they are not gettable. I don't know. As far as we know, they are in Pakistan," she said in unusually blunt remarks during a visit to Pakistan that is aimed at mending fences and improving strained ties.
Clinton's comments -- made when a journalist asked why the war on terror has focused so much on Pakistan – reflected concerns expressed recently by senior American diplomats, including Ambassador Anne Patterson.
She also alluded to the role of Pakistan's powerful ISI agency, which has been accused of secretly supporting the militant groups.
In a remark that appeared aimed at the ISI, she said, "If we are going to have a mature partnership where we work together there are issues that, not just the US, but others have with your government and with your military security establishment."
In recent interactions with the media, American diplomats have said they believe Al-Qaeda leader Osama bin Laden is alive and based in Pakistan's tribal belt.
They have also urged the Pakistan government to take action against the "Quetta shura" or senior leaders of the Taliban based in the suburbs of the capital of the southwestern Balochistan province.
Clinton also told Pakistan that it had little choice but to take aggressive approach to Taliban and other extremist groups.
With the Pakistan army pushing deeper into country's lawless region in South Waziristan, long suspected by US officials to be safe haven for world's most wanted terrorist Osama bin Laden and the country reeling from Wednesday's devastating bomb blast, which killed 118 people, Clinton told students: "If you want your country to shrink, that's your choice."
Since her arrival in Pakistan on Wednesday, Clinton has avoided discussing contentious issues in her public appearances, including a joint news conference with Foreign Minister Shah Mahmood Qureshi.
She has repeatedly said she is in Pakistan to 'turn the page' in the US-Pakistan relationship.
Observers said her remarks about Al-Qaeda during the interaction with journalists in Lahore on Thursday reflected the US frustrations about Pakistan's role in the war on terror.
Pakistani leaders have claimed that no Al-Qaeda leaders are present in the country.
An unnamed US official told the Los Angeles Times that Clinton's comments about Al-Qaeda were not part of a prepared message she had intended to deliver but reflected her own "heartfelt views".
US Ambassador Patterson told reporters that Clinton's comments approximate what the US administration has told Pakistani officials in private.
"We often say, 'Yes, there needs to be more focus on finding these (Al-Qaeda) leaders,'" she said.
Patterson also noted that Pakistan had in recent years "lost control of much" of the territory where the terrorist leaders are believed to be hiding "that's why they're in South Waziristan right now".
The US-Pakistan relationship has recently been under strain due to several issues. There has been an outcry in Islamabad over conditions attached to the Kerry-Lugar aid package and the powerful Pakistani military has publicly expressed its concerns on this issue.
Pakistani leaders have been angered by America's call to do more in the war on terror and have opposed US drone attacks, describing them as an infringement of Pakistani sovereignty.
Clinton's public diplomacy push has focussed on reiterating America's long-term commitment to Pakistan but she has faced pointed questions during her public interactions over US aims in the region.
She has also announced aid to tackle Pakistan's energy crisis and improve the capability of law enforcement and border security agencies.