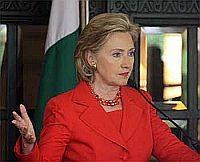 Terming United States Secretary of State Hillary Clinton's forthcoming visit to Pakistan as a 'people-to-people trip', Obama administration's Special Representative for Afghanistan and Pakistan, Richard Holbrooke has said that Clinton's trip to the troubled nation would be one the most important foreign visits of the top American diplomat.
"I think this is one of the most important trips she has made since she became Secretary of State and I think the whole world will be watching. This is a people-to-people trip. It's an expression of the support of US President Obama and his administration," The Dawn quoted Holbrooke, as saying.

Interacting with mediapersons in Washington, DC, Holbrooke said Clinton would be coming to Pakistan as a friend and not to pressurize the nation to accept any restrictions that impinge on its sovereignty.
"She is bringing a message of friendship and support to a country under tremendous pressure. She is going to focus on the real needs of the Pakistani people. And I want to stress that she comes to Pakistan as a friend, not with conditions but with support for the democratically elected government and the people of Pakistan," Holbrooke said.
Clinton's visit comes at a time when anti-American sentiments in Pakistan are at an all time high, and the top US diplomat would surely work to allay those negative perceptions.
"The secretary of state is visiting at a crucial time and the purpose of the visit is to strengthen the strategic partnership with Pakistan and assure long-term relations with Pakistan," sources said.
The ongoing dispute over the Kerry-Lugar legislation and the Pak army's reservations regarding it will also be part of Clinton's discussions with the Pakistani leadership during her tour.
Diplomatic sources said Clinton would try to assure various stakeholders that the US has no intentions of micromanaging Pakistan or enforcing unnecessary restrictions that could harm long-term relations. Pakistan's concern over India's involvement in Afghanistan and Balochistan is also likely to be taken up with Clinton. 
Image: US secretary of state Hillary Clinton