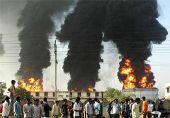 Two days after a massive fire broke out at the Indian Oil Corporation fuel depot near Jaipur, the flames died down in five of the 11 storage tanks even as three more bodies were recovered from the site on Saturday, taking the toll to nine.
Chief Fire Officer Ishwarlal Jat told PTI that the flames in four tanks died in the wee hours and in the fifth one by afternoon.
The fires in the remaining six tanks -- three each of diesel and petrol -- and the thick black smoke emanating from them would probably die down on Sunday as the fuel quantity was constantly declining, he said.
Police said the three bodies recovered from the site in Sitapura Industrial area this morning have been identified as that of IOC employees Harish Gangal, S K Saroh and Pramod Kumar, SHO Sanganer Sadar police station Subodh Sharma said.

Meanwhile, the sudden sound of a siren in the industrial area this forenoon created a flutter and panic as residents came out of their houses and security personnel of the IOC and policemen rushed to nearby stations, the police said.
Later it was detected that the sound came from a IOC-gas pipeline station due to the low pressure created, they said, adding there was no untoward incident. 
Jat said the fire will probably be extinguished completely sometime on Sunday.
The intensity of the flames was such that the temperature shot up to beyond 52 degree Celsius at a distance of 500 metres where the joint operation team is stationed right now, the CFO said.
In a joint operation late Friday night, Army-IOC-civic administration personnel began digging a five-feet deep trench around the blazing storage tanks, which would be filled with water to contain any leakage, he said.
Foam and fire fighting vans would be deployed near the trench, Jat said, adding that any further seepage or spread of fuel can be contained.
In case the tanks collapse after the fire dies down and remaining fuel seeps out, the trench would absorb it. A cooling system was also being evolved with supply of water to keep down the temperature.
The fire has caused infrastructure damage to at least 200 small and big industries nearby, an official said.
Rail and road transport continued to remain disrupted in the area.

The fire broke out when petrol was being transferred from the depot to a pipeline and soon got out of control. A leak in the pipeline is suspected to have caused the blaze.