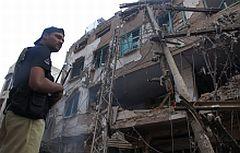 Both the Taliban and the Al Qaeda have rejected claims regarding their involvement in Wednesday's
Peshawar bomb blast
which killed 95 persons and injured over 200.
The Tehrik-e-Taliban Pakistan, in an email sent to the media, condemned the deadly blast and denied its hand in the explosion that rocked Peshawar's Meena Bazar area around noon on Wednesday.
Al Qaeda, in its statement, said it does not kill innocent people. The statement said that the terror strike was the handiwork of those people who wants to 'defame jihad and refugees,' The News reports.
It warned that the banned organisation would continue its struggle against the United States and its allies across the world.       
Image: A policeman keeps guard near a damaged building at the site of a bomb explosion in Peshawar on Wednesday
Photograph: Reuters