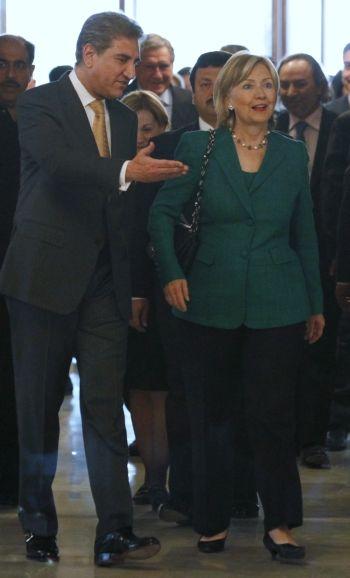 US Secretary of State Hillary Clinton on Wednesday announced a series of humanitarian and developmental aid to Pakistan totaling USD 243.5 million (about Rs 11,500 million), among other aid packages, on the first day of her visit to the country.
Giving details of the various aid packages announced by Clinton, State Department spokesman Ian Kelly told mediapersons that this includes USD 55 million (about Rs 2,600 million) for humanitarian relief, USD 103.5 million (about Rs 4,900 million) for law enforcement and border security, USD 158.5 million (about Rs 7,500 million) plus USD 85 million (Rs 4,000 million) for the support to the women and their families.
She also attended a programme designed to help Pakistan's poorest women and their families, and also had a meeting with and attended a dinner hosted by President Asif Ali Zardari at the presidential residence, he said.
"Throughout she underscored America's broad partnership with Pakistan's democratically elected government. This is a partnership that covers all dimensions of our bilateral and people-to- people relations," Kelly said.       
Clinton also announced the first phase of a signature energy programme by the US to support Pakistan's energy development, helping to improve the quality of life for all Pakistanis and support their economic development, he said.
At her meeting with the prime minister, Clinton pledged USD 55 million that will assist Pakistan and United Nations agencies to provide humanitarian relief to families displaced from North and South Waziristan and the North West Frontier Province.
Clinton also pledged USD 103.5 million in US support for the government of Pakistan's priority law enforcement and border security programs, Kelly said.
She also participated in an event promoting the government of Pakistan's Benazir Income Support Programme with the prime minister and the President to express US support and also make contributions or announce a contribution to the Income Support Programme.
It is a monthly cash subsidy programme designed to help some of Pakistan's poorest women and their families, Kelly said, adding that the US would be contributing USD 85 million for this programme.
Kelly said the US extends its deepest sympathy to the victims of brutal attack in Peshawar and to families and friends of those who lost their lives.
"We continue to stand with the Pakistani people, who have seen firsthand the effects of violent extremism," he said.
"We also honour the brave Pakistani military, police and security personnel, who are now engaged in rescue efforts, as well as those who are fighting to combat extremism and create a safe, stable and secure Pakistan," he said.
Noting that Pakistan is in the midst of an ongoing struggle against brutal extremist groups who kill innocent people and terrorise communities, Kelly said: "These attacks show the lengths extremist elements are willing to go as they attempt to force their agenda onto a people who only wish to go about their daily lives in peace."
Image: Pakistani Foreign Minister Shah Mehmood Qureshi escorts his US counterpart Secretary of State Hillary Clintion in Islamabad on Wednesday | Photograph: Faisal Mahmood/Reuters