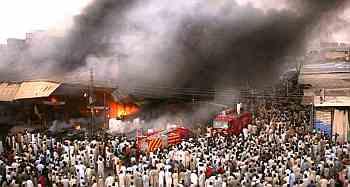 In one of the deadliest terror attacks in Pakistan, at least 95 people were killed and over 200 injured on Wednesday when a powerful car bomb ripped through a packed market in Peshawar, hours after the United States Secretary of State Hillary Clinton arrived in Pakistan on her maiden official visit.
Several buildings caught fire and collapsed due to the explosion that occurred in the congested 'Peepal Mandi' area of Peshawar, the capital of North West Frontier Province, shortly after 1 pm local time.
Shafqat Malik, chief of the city's bomb disposal squad, said the blast was caused by a car bomb packed with 150 kgs of explosives.
At least 95 people, many of them women and children, died and nearly 213 were injured in the attack, NWFP Information Minister Mian Iftikhar Hussain told mediapersons at the site of the attack, as rescue workers scoured the debris for survivors.
Doctors at Lady Reading Hospital, Peshawar's main healthcare facility, said at least 50 of the injured were in a serious condition. Other officials said they feared the toll could rise as more people were believed to be buried in the rubble of buildings that collapsed.
The Meena Bazar, a market exclusively for women, bore the brunt of the blast, the 13th attack to rock Peshawar in recent weeks, and many of the injured and dead were women and children.
One building collapsed even as fire fighters battled the blaze, sending up clouds of dust.
Witnesses said they feared many more people could be buried under the debris, even as the fire hampered rescue efforts.
An emergency was declared in hospitals. Many of the people taken to hospital suffered burn injuries.
The blast occurred hours after Clinton arrived in the Pakistani capital for talks with the country's top civil and military leadership on the war on terror and bilateral cooperation.
Strict security arrangements were put in place in Islamabad for her visit.
Scores have died in a series of bombings and suicide attacks across Pakistan over the past few weeks. A majority of the attacks targeted security facilities, including the army's heavily guarded General Headquarters in Rawalpindi.
President Asif Ali Zardari and Prime Minister Yousuf Raza Gilani condemned the blast in Peshawar and said the government will not rest till all extremists and terrorists in the country are eliminated.
Zardari said the government's resolve to fight terrorism will not be deterred by such cowardly acts.

In a separate message, Gilani said his government had launched a full-scale operation against militants and 'will not be cowed down by such heinous attacks'.
The government is 'fully alive to its responsibility of protecting the lives and property of people and was taking all necessary measures in this regard', Gilani said.
Zardari said the government will not let "terrorists play with the lives and property of the people and will continue to wage a full-scale operation till their complete elimination".

Photograph: Reuters
Text: Rezaul H Laskar in Islamabad for PTI