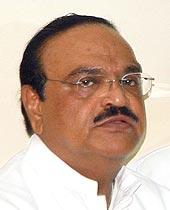 Nationalist Congress Party Legislature party leader in Maharashtra assembly Chhagan Bhujbal on Thursday said his party will never align with the Shiv Sena-Bharatiya Janata Party for the sake of power.
He was speaking to reporters in the temple town of Pandharpur after offering prayers on the occasion of Kartiki Ekadashi.
The comments came in the wake of senior party leader Ajit Pawar's interview to a national daily on Thursday, when he informed that the Shiv Sena-BJP had made an offer to him to join the combine with his followers, in exchange for the chief minister's post.
Meanwhile, in Mumbai, Senior Shiv Sena leader Manohar Joshi said that the saffron alliance was not averse to Ajit Pawar's name since the NCP and the Sena-BJP conbone, under Ajit's leadership, have ruled the Pune Municipal Corporation for many years.
He said the NCP will have to snap ties with the Congress before talks of a fresh alliance can happen.
Bhujbal was elected by the NCP legislature party leader to be the next deputy chief minister, dashing Pawar's hopes, who had walked out of the meeting in protest.