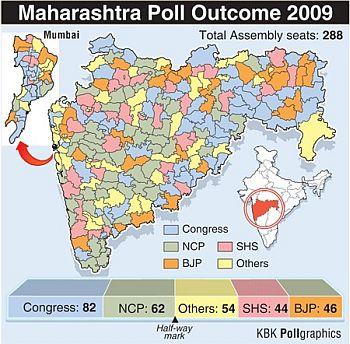 Overcoming the anti-incumbency caused by agrarian distress, price rise and acute power shortage, ruling Congress-Nationalist Congress Party alliance in Maharashtra on Thursday stormed back to power for the third time in a row.
The decade-old coalition, with 144 seats, fell one short of majority in the 288-member assembly and would not find it difficult to enlist the support of independents and others for absolute majority as many of them were with it before the elections.
The ruling combine bagged 144 seats while its main challenger Shiv Sena-Bharatiya Janata Party alliance secured 90 and Sena's breakaway faction Mharashtra Navnirman Sena 13.
Congress emerged as the single largest party with 82 seats in its kitty followed by NCP with 62. BJP pocketed 46 seats, two more than its senior partner Shiv Sena. The Republican Party of India-Left Democratic Front bagged 11 seats and independents and smaller parties 30.
While Congress-NCP combine's strength went marginally up by four seats, that of Shiv Sena-BJP alliance plummeted by 26. The leadership of Shiv Sena Executive President Uddhav Thackeray, who had the responsibility of carrying forward his father Bal Thackeray's legacy, came under cloud with the biggest blow coming from his estranged nephew Raj Thackeray-led MNS which bagged 13 seats in its maiden assembly poll foray.
Most of the winning candidates of Raj Thackeray's party are from Mumbai-Thane, Pune and Nashik regions. The biggest achievement for the party, which had contested 143 seats campaigning on Marathi versus non-Marathi issue, was dividing the Sena vote.
"We lost because MNS ate into traditional Shiv Sena votes. After all, these were our votes," BJP general secretary Gopinath Munde said. Though Chief Minister Ashok Chavan and his predecessor Vilasrao Deshmukh credited the ruling alliance's performance to the dynamic leadership of Congress president Sonia Gandhi, Raj Thackeray's contribution to its victory cannot be overlooked.
NCP left no stone unturned to regain lost ground after Lok Sabha polls in Western Maharashtra, once its bastion, as party president Sharad Pawar had carefully nurtured it after he split with Congress.
It concentrated on districts like Pune, Satara, Sangli, Kolhapur and Solapur after the party won just three of the eight Lok Sabha seats in the region.
Mayawati-led Bahujan Samaj Party contested all 288 seats in the state but drew a blank. Dalit votes were divided as Prakash Ambedkar faction slugged it out on its own, contesting over 120 seats while the Gavai faction of RPI sided with Congress-NCP combine after initially joining RLDF.
The polls saw the defeat of senior NCP minister Vijaysinh Mohite Patil and some other members of the Ashok Chavan-led government. The list of defeated ministers includes Surupsinh Naik, (Navapur), Sidhram Mhetre (Akkalkot), Madan Patil (Sangli), Shobha Bachav (Nashik), Rameshchandra Bang (Hingana) and Ravi Patil (Kalyan rural).
Poonam Mahajan, daughter of slain BJP leader Pramod Mahajan (Ghatkopar West) was another prominent loser, while president Pratibha Patil's son Rajendra Shekhawat, whose nomination had raised many an eyebrow, emerged victorious vanquishing rebel Congress candidate and minister Sunil Deshmukh.
As many as nine NCP rebels have won the elections. This time, the BJP-Shiv Sena combine, otherwise known to have comparatively fewer instances of rebellion compared to Congress-NCP, also saw several disgruntled workers contesting as independents or quit to join another party.
The most highlighted example was that of Sena MLA Sada Sarvankar, who quit the party after denial of ticket, joined Congress and was given ticket from Mahim the same day. In Vidarbha region, having 62 seats, which saw most suicides by debt-ridden farmers, around two dozen Congress-NCP candidates got elected.
In Marathwada, Congress-NCP doubled its tally of seven seats in 2004 elections.
Two major Congress contenders for chief minister's post -- incumbent Ashok Chavan and former chief minister Narayan Rane -- won by handsome margins. Chavan won from Bhokar seat in Nanded district defeating his nearest independent rival Madhavrao Kinhalkar by 1,07,503 votes, while Rane emerged victorious from Kudal in Sindhudurg humbling his Shiv Sena rival Vaibhav Naik by 24,162 votes.
Deputy Chief Minister Chhagan Bhujbal retained his Yeola seat in Nashik district by a margin of 50,180 votes. Psephologists who predicted the emergence of Congress-NCP combine as the biggest alliance proved right but they were still wide off the mark in their forecast of the ruling coalition falling short by about 25 seats for a majority as it pocketed exactly half of the total 288 seats at stake.
According to Maharashtra Pradesh Congress Committee president Manikrao Thakre, a meeting of the newly elected MLAs would be called in two-three days to elect a new leader who would be the chief minister of the key western state.
Text: PTI
Graphic: KBK