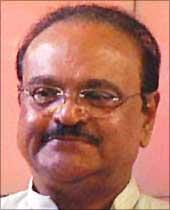 Taking a cue from its ally Congress, Sharad Pawar-led Nationalist Congress Party on Monday chose to opt for the status quo and named Chhagan Bhujbal as the leader of its legislature party, paving the way for his becoming the deputy chief minister of Maharashtra.
Bhujbal, 62, deputy chief minister in the outgoing ministry, would be holding the post for the third time. The announcement of the senior NCP leader's name was made by Civil Aviation Minister Praful Patel after a meeting of the NCP legislature party in Mumbai.
The meeting had authorised NCP chief Sharad Pawar to decide on the new leader.
"The NCP has decided to play safe and like its ally Congress, which retained Ashok Chavan as chief minister, gone ahead and retained Bhujbal for the post," a senior NCP leader said.
Water Resources Minister Ajit Pawar, who was a front-runner for the post, was among those who seconded the resolution authorising Sharad Pawar to name the leader.
Bhujbal was the Deputy Chief Minister in the first Congress-NCP government that was formed in 1999 but had to resign that post following an attack on the office of a TV channel. He was targeted by his party rivals after allegations of involvement in the multi-crore Telgi scam.
Bhujbal was sworn-in as the deputy chief minister for the second time in December last year, after R R Patil resigned from the post, following his callous comments about the terror attack on Mumbai.