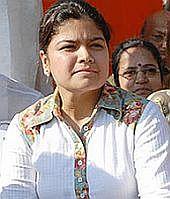 With her maiden attempt to carry forward her late father and Bharatiya Janata Party leader Pramod Mahajan's legacy ending in a whimper, Poonam Mahajan says she will work harder to ensure a win in the next elections.
"My father lost the Lok Sabha elections in 1984 but he bounced back and won the next one. He is my inspiration. I will work harder," 29-year-old Poonam told PTI.
The BJP candidate from suburban Ghatkopar (West) constituency, who lost the elections to her nearest rival Maharashtra Navnirman Sena candidate Ram Kadam, does not blame the party for her defeat.
"It is my defeat. I don't blame the party. The fact is voters preferred MNS," she said. Poonam Mahajan polled 31,609 votes while Kadam was declared victorious with 56,575 votes.
Asked if the resentment within local party functionaries like Praveen Chheda may have gone against her, Poonam said, "Everyone, including Chheda worked for me and the Shiv Sena-BJP workers toiled for me."
The tags of 'inexperienced' and 'an outsider' in Ghatkopar West assembly constituency may have worked against her but Poonam dismissed these factors.
"This is one constituency where the number of Marathi voters was highest," she said.
Pramod Mahajan had been 'fighting, winning and losing' from this constituency since 1984, Poonam noted.
"I have known the entire area for several years now and I have a connection with the people at the grass-roots level," she added.
The fact is, there was this 'MNS wave' that swept away candidates like me, she said.
Asked if reports of her educational qualifications (her poll affidavit mentioned she is just a matriculate), may have worked against her, Poonam said, "It is not education but hard work that is important."
On her plans of 'nurturing' Ghatkopar constituency, Poonam said, "For me, the party is of utmost importance. Whatever the party tells me, I will do."
"I will undertake a tour of all 48 Lok Sabha and 288 assembly constituencies and work for the Bombay Municipal Corporation election slated in two years," she said.
Image: Poonam Mahajan