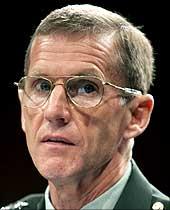 United States Commander of Joint Operations Special Command General Stanley McChrystal has facilitated the removal of scores of security check-posts from the Afghanistan side of the Pak-Afghan border as part of a conspiracy against the Pakistani military, fear Pakistani security experts. 
"This is a part of conspiracy by the US and Afghan commanders to remove scores of strategic security posts ahead of the military operation launched by Pakistan against terrorists in South Waziristan Agency," The Nation quoted a security expert as saying. According to them, General McChrystal opened the Afghan border to prove his claim that all the high profile terrorists were based in the Federally Administered Tribal Area.
"This is an intriguing move aimed at different ends. But the primary motive of it is to encourage large-scale reinforcements and infiltration, which the US commanders in Afghanistan would use to justify their claim that all the key Al Qaeda and Taliban fugitives were present in FATA," a leading security analyst said.
Pakistan Army Chief Ashfaq Parvez Kayani also took up the issue of removal of these security check-posts with the USCENTCOM Commander last week.
However, Pakistani leaders have not taken up the issue with the US as yet. Many Pakistani security experts are linking this with the new US Congressional restrictions on military aid to Pakistan. Meanwhile, the US Embassy in Pakistan has denied reports of the check posts' removal.
"These were mere proposals put up on a website by General McChrystal as part of his review report, and are being misused by the media," US Embassy spokesman Rick Snelsire said.