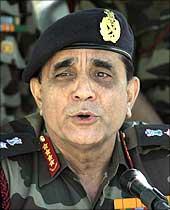 Army Chief Deepak Kapoor today said the number of ceasefire violations by Pakistan Army has increased to enable militants to infiltrate into India before the onset of winter to "disrupt" the peaceful environment in Jammu and Kashmir.
The attempts of ceasefire violation have increased because this enables infiltration to be carried out when the firing is on and can be used as a diversionary tactic. Their attempt is to infiltrate more and more people during ceasefire violation but we understand their tactics and take appropriate steps," he told reporters.
He was asked why ceasefire violations by Pakistan have increased besides rising incidents of infiltration by militants.
"Attempts will be made by the other side to try and disrupt the stable and peaceful environment in Jammu and Kashmir and to push in as many infiltrators as possible before the winter sets in. It is the trend that we are witnessing and the attempts of infiltration are going on," he said.
Kapoor was speaking after signing an MoU between the Indira Gandhi National Open University and the Indian Army on providing graduation degrees to its personnel below officer ranks.