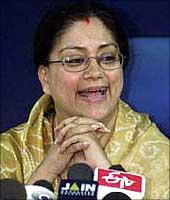 Former Rajasthan Chief Minister Vasundhara Raje finally resigned as the leader of the Opposition in the state assembly on Friday.
Raje, who initially refused to resign, has been dodging the Bharatiya Janata Party leadership for over two months on the issue.
However, she did not hand over her resignation letter to party president Rajnath Singh. Raje met Leader of Opposition in Lok Sabha L K Advani in Delhi on Friday and handed over her resignation letter.
The BJP Parliamentary Board is scheduled to meet at 5 pm to consider Scindia's resignation and also review its electoral losses in the recent assembly polls.
In August, the party high command had asked Raje to take moral responsibility for the BJP's defeat in the Lok Sabha and the state assembly polls and step down from the post. She, however, had defied the directive and indulged in dilly-dallying tactics.
The party had nominated senior party leader M Venkaiah Naidu in September to talk to her and persuade her to follow the party diktat. But Raje did not meet him for days, saying she was unwell.
Subsequently, the party nominated senior leader Sushma Swaraj to persuade Raje to step down, but the Rajasthan BJP leader did not meet her, despite an appointment scheduled for October 20.