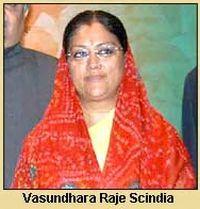 Former Rajasthan [
Images
] Chief Minister Vasundhara Raje on Thursday got another one-week's time to step down as the leader of the Opposition in the state assembly. She was dodging the Bharatiya Janata Party [
Images
] leadership for over two months on the issue.
Party president Rajnath Singh has now asked senior party leader Sushma Swaraj [
Images
] to persuade Raje to resign without making a fuss, a responsibility earlier given to former BJP chief M Venkaiah Naidu.
The party firmed up that Raje will have to go as per the BJP parliamentary board decision in August and in any case before the board's next meeting on October 22.
Her immediate removal was not pressed for in view of the upcoming Diwali [
Images
] festivities, but a plea to keep her in place until the assembly by-elections in the state was turned down, sources said. Rajnath Singh asserted that she could campaign for party candidates even without holding the post.
If she resists, the board will fix a date on October 22 for her removal and the election of her successor by the party legislators, party sources said after a meeting of the board that rejected her plea to review its decision.
The board, which held a lengthy meeting after the party's central election committee first cleared candidates for various assembly by-elections, felt any reconsideration would send a wrong signal of allowing indiscipline in the party, sources said.
She should have resigned the day the board formally asked her to step down, but she has been putting conditions that cannot be allowed as it defies the party discipline, a source said.
They said the board reconsidered its decision at the instance of Lok Sabha Leader of the Opposition Lal Krishna Advani [
Images
] and concluded that any issues that Vasundhara wants to be discussed can be raised only after she submits her resignation.
Advani had sought review of the board's decision in the light of her complaint to him earlier this month that she was not given any hearing before holding her responsible for the poll debacle.
Vasundhara belongs to Advani's camp, and so Rajnath Singh is adopting the tactic of putting the responsibility of implementing the board's decision on her resignation on Advani's staunch supporters; first on Venkaiah Naidu and now on Sushma Swaraj.
Rajnath has reportedly flayed Vasundhara for her repeated assertion that she is a 'disciplined soldier' of the party and will abide by its decision, but holding back resignation on one or the other issue.
Vasundhara is insisting that she has the support of the majority of the BJP Members of Legislative Assembly and as such a person of her choice be made the opposition leader and she be given a position in the central party to show that her ouster was not a punishment.
The Rashtriya Swayamsevak Sangh is, however, not in favour of her man taking over the reins from her, and as such, this background is being exploited by Rajnath Singh to assert that she should first resign and then only other issues, including withdrawal of suspension of her key supporter MLAs, can be considered.