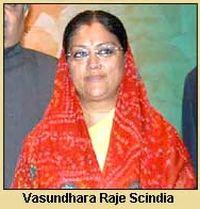 The crisis in Bharatiya Janata Party over a defiant Vasundhara Raje's refusal to resign as Leader of Opposition in Rajasthan assembly appeared to be showing signs of easing, after she made a conciliatory statement but the party insisted she should quit, for which no deadline was set.
After a meeting of the BJP Parliamentary Board at its headquarters, party president Rajnath Singh said Raje's statement earlier in the day that she will abide by the party's decision is a "positive message."
"BJP Parliamentary Board is confident that the message conveyed by me to her (to step down) will be followed by her," Singh said.
He confirmed for the first time on record that it was conveyed to her that the former chief minister should step down as Leader of the Opposition.
He said this decision was taken by the Core Group of the party.
"No time-frame has been set (for her stepping down) so I cannot say that party's authority has been undermined," he said in reply to a question on whether a deadline has been set and her refusal undermined the party's authority.
After three days of defiance, when Raje sent her supporting MLAs to Delhi to convey to the party high command that she will not quit, she issued a statement in Jaipur in the morning that she had never thought of floating a separate party.
The MLAs were snubbed when senior party leader L K Advani refused to meet them.
"Whatever the BJP Parliamentary Board decides, it will be acceptable to the BJP legislature party" led by her, Raje's close aide Gyan Dev Ahuja said in Jaipur before the meeting.
After the parliamentary board meet, Raje and her supporting MLAs met briefly in Jaipur.
Ahuja said a final decision would be taken only after getting a formal communication from the board.
Ahuja, told reporters in Jaipur that the final decision  in the matter of Raje's resignation would be taken up for discussion after receiving the report of the party's parliamentary board meeting held in Delhi on Sunday evening.
"If reports come by morning, we will again meet at Raje's residence at 11 am to take up the matter," Ahuja said, adding, "Without seeing, without reading and considering the parliamentary board's report, it cannot be decided right now."
"Whatever is seen on TV channels, specially regarding Rajnath's briefing to media in Delhi cannot be considered for any discussions for decision."
Chief whip of the party in the state, R S Rathore, said the decision of the board is not clear because they had not received any communication on it so far.
"The 61 MLA's who went to Delhi will remain with Vasundhara Raje but we will follow the party high command's order whatever it is," Rathore said.
He added that about 20 MLAs were present at the brief meeting with Raje. To placate Raje and her supporters, BJP may accommodate the former Rajasthan chief minister in a central-level post of the party.
However, BJP sources were tight lipped on the matter.
In Jaipur, the former Chief Minister said she was hurt by "manipulated and untrue statements" attributed to her by the media.
"I have neither made any adverse comments nor any statement against BJP or its leader or thought of floating any party," Raje said.
Sunday's development caps three days of Raje's defiance to step down as the Leader of Opposition and may come as a relief to the party which is heading for a Chintan Baithak (brainstorming session) in Shimla next week.
Rajnath had asked Raje to quit from the post after she failed to take the party cadre along. He held her responsible for BJP's poor performance in the assembly elections in 2008 and the Lok Sabha polls earlier this year.
In her reply, Raje through statements in the media said responsibility should be fixed from top to bottom in the organisation.
"As far as the poll debacle of party is concerned, it was not only in Rajasthan but the setback was suffered all over the country, and the responsibility should be fixed from top to bottom in the leadership ladder," she had said.
Raje claims to have the support of more than 57 of the 78 BJP MLAs in the Rajasthan assembly.