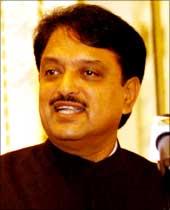 Union Heavy Industries Minister Vilasrao Deshmukh on Friday said that he is not a contender for the chief minister's post in Maharashtra.
Speaking to reporters after his meeting with Congress president Sonia Gandhi in New Delhi, Deshmukh said he would leave the decision to the party high command.
Deshmukh, who has headed the state government twice earlier, is claiming the support of fifty Members of Legislative Assembly. He also played a major role in the distribution of tickets.
Political circle, however, feel that it would not be easy for the Congress leadership to consider Deshmukh, as he has been inducted into the Union Cabinet. 
The Congress-Nationalist Congress Party alliance won 146 of the 288 seats that were up for grabs in the assembly elections.
Deshmukh's statement might bring a smile to incumbent Chief Minister Ashok Chavan's camp. In his brief stint of ten months, Chavan has acquired a reputation of loyalty to the party high command. He was also appreciated for handling the post 26/11 scenario in the state.
On Thursday, Chavan had said in Mumbai that his ten-month tenure was not long enough to judge him. He said he was gratified by the public support and it was up to the high command to decide his role in the future.