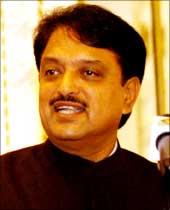 Union minister Vilasrao Deshmukh on Thursday made his chief ministerial ambitions clear, when he stated during an interview that there was no hard and fast rule in the Congress that only a Member of Legislative Assembly could be elected to the CM's post.
"There is no hard and fast rule in Congress that only an MLA could be the chief minister," he said.
Deshmukh added that the party MLAs and the high command should finalise the next CM. 
In reply to a question on whether he would like to complete his 'unfulfilled task' as CM, he said it was for the high command to decide.
Deshmukh was replaced by Ashok Chavan as chief minister last year, in the wake of the terror attack on Mumbai, under intense pressure from both the media and the public.
The Congress has done well in Maharashtra in both the Lok Sabha elections held earlier this year and the assembly polls, under the leadership of Chavan as CM. In reply to a query, Deshmukh attributed the victory to the teamwork in the state unit of the Congress.
Deshmukh, who had been heading the powerful election management committee, was one of the most sought after campaigners in the assembly polls.
Deshmukh is a Rajya Sabha member who was entrusted with the charge of the Heavy Industries ministry after the Lok Sabha elections.