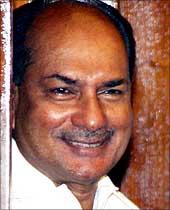 Warning that the situation in Pakistan is 'very serious', Defence Minister A K Antony on Monday said terrorism is spreading in that country and asserted that India is prepared to meet any challenge from Taliban militants.
"The situation in Pakistan is very serious and terrorism is spreading," he told reporters.
Pakistan has been in the grip of a terror wave, with six major attacks in the last fortnight by suspected Taliban militants, the latest being a suicide bomb attack in Peshawar in the restive North West Frontier Province on Friday which claimed 14 lives.
Asked if the Taliban's threat to carry out attacks on India was a cause of concern, Antony said, "We are always prepared to meet any challenge to our territorial integrity and national security from any quarter. Our security forces are keeping eternal vigilance".
Replying to a query on the Coast Guard and Navy's joint operation Raksha, he said, "We learnt a lot of lessons from 26/11 last year. Now, there is a coordinated effort for coastal security and the Indian Navy and the Coast Guard are taking serious steps. The government is also giving all out support to strengthen them".
On the possibility of the involvement of Pakistan based terror groups in Sunday's blast in Iran, Antony said, "I cannot say anything off-hand. But terrorism is spreading. It is the real menace to the world. Terrorism is a reality. The fight against terrorism is a common challenge for all peace leaving nations and communities".
Asked if India was prepared to tackle the threat from China, he said there will be no compromise on national interest. "We will protect all our territory and at the same time, we will continue our efforts towards extending relations with all our neighbours," he said.