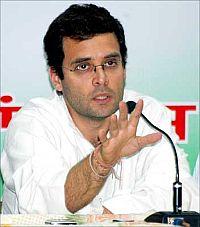 Congress general secretary visited the house of Inspector Francis Induwar in Naxal-hit Jharkhand on Thursday, who was beheaded by Maoists ten days back, and sympathised with his children, saying he had lost his father to a suicide bomber.
During his 20-minute visit to the house, Rahul interacted with the widow of the special branch inspector, Sunita, and her children studying in classes V, VI and VII.
"I too lost my father. But I was 19 then, much older than you. Study well," Gandhi told the children.
"Rahul Gandhi also asked me on suggestions to curb left-wing extremism in the state and I replied that basic amenities like health, education and roads should be provided in rural areas," Sunita told mediapersons.
The Congress leader later addressed mediapersons in Ranchi said that the state governments should reach out to people to tackle the Maoist menace effectively.
"If you have to combat Naxalism, you should reach out to the people," Gandhi said.
Replying to questions on recent Naxal attacks, he said, "Except for some pockets, the overall situation in India is good ... In states like Orissa and Chhattisgarh the governments are not reaching out to the people." He added,  "the problem is just not here, but everywhere in the world."
Stating that there were 'two Hindusthans -- one with basic amenities and opportunities, while the other was poverty-stricken, he told reporters that all development programmes like National Rural Employment Guarantee Act should reach to the people.
Accusing Uttar Pradesh Chief Minister Mayawati of opposing the NREGA scheme to provide jobs to the rural poor, Gandhi said, "The UP CM is not interested in NREGA and has termed it as not good. We can't do much if state governments do not implement the programmes," he said.