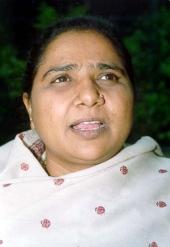 Uttar Pradesh Chief Minister Mayawati was notably absent from the Gandhi Jayanti function organised on the occasion of Mahatma Gandhi's birth anniversary in Lucknow on Friday.

While State Governor B L Joshi and other senior officials were present at the event, Mayawati remained conspicuously absent.
While no explanations were provided for her absence, the Bahujan Samaj Party chief's absence left everyone wondering, since she had dutifully participated in the garlanding function in 2008, in spite of her well-known antipathy towards Gandhi.

However, Mayawati participated in the official function held at the state assembly's historic Tilak Hal, but she didn't utter a word. In the past, successive state governors and chief ministers have made it a point to say a few words in honour of Mahatma Gandhi.
Governor Joshi also remained silent, and the function was concluded within a short span of time.

"I have been attending most Gandhi Jayanti functions over the past three decades, but I do not remember a single occasion when the governor has not uttered a word," remarked a senior officer.
"I wonder if the chief minister's silence prompted him to avoid a speech," he added.