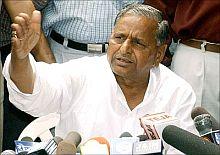 Former Uttar Pradesh Chief Minister and Samajwadi Party president Mulayam Singh Yadav swore in Lucknow on Thursday that he would run his bulldozer over memorials and statues being erected by Chief Minister Mayawati, once he came back to power.
Questioning the constitutional sanctity of the 27-month-old Mayawati government in the wake of its open defiance of the Supreme Court's specific orders to suspend all construction activity at each of her dream projects, Mulayam said, "The manner in which the Mayawati government was going about defying the orders of the Supreme Court was sufficient reason for the apex court to declare the Mayawati government as unconstitutional."
Addressing a press conference, he also condemned Mayawati for using her undue influence to slap the Dalit Act on reporters of a national TV channel for showing sale of a Dalit woman by her husband, to provide two square meals to his starving family in a poverty-ridden Bundelkhand. He termed the action as 'highly undemocratic' and 'dictatorial.'
On going ahead with construction work at sites of various memorials in Lucknow, Mulayam roared, "Since Mayawati's actions have clearly displayed her open contempt for the country's highest judicial forum, as a political party, we would have to act and run a bull-dozer over the buildings and monuments erected by her with public money on public land worth hundreds of crores."
He also flayed Mayawati for pulling down the Lucknow jail complex to expand Bahujan Samaj Party founder Kanshi Ram memorial already erected on a sprawling 25 acre plot of land belonging to the jail. The Rs 750 crore memorial will soon have an adjoining 50 acre Kanshi Ram Eco Park.
As if to justify his intention to pull down the memorials, Mulayam sought to point out how a statue of well-known socialist and parliamentarian Ram Manohar Lohia was razed by the Mayawati administration.
"It is clearly visible how the tax payer's money has been misused for building memorials after a particular set of select leaders, as if to say that they were the only ones to merit that kind of recognition and respect," Mulayam pointed out.
Questioning Mayawati's fad for eulogizing her political icons through statues and memorials, being erected at a cost of more than Rs 5000 crores, he asked, "Are they the only ones who have made some contribution to the nation?"