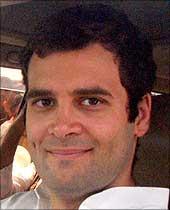 Rahul Gandhi on Wednesday traveled across Jharkand and visited some of the Maoist-affected districts in the state which have been rocked by an upsurge in Maoist violence in the recent weeks.
The All India Congress Committee general secretary commenced his two-day visit in the tribal-majority district of Sahebganj, where he called upon tribals in the Youth Congress to actively work for the development of the state.
Jharkand has been under President's rule since January and there is speculation that assembly elections may be held by the end of this year. Besides Sahebganj, Rahul also visited Dhanbad, Hazaribagh and Dumka, some of which have been hit by Maoist violence.
"Rahulji asked us to actively participate in the development of Jharkhand," a Sahibganj district Congress leader told newsmen after Gandhi addressed a convention there.
Later, Gandhi went to neighbouring Dumka, where he briefed the potential candidate meet (for the Youth Congress elections) and outlined the organisational set-up of the YC, the party's district Congress leader, Syamlal Kishore Singh said. Rahul also addressed another Youth Congress meeting at Dhanbad.
He also had an event at Hazaribagh. He met student representatives of the Indian School of Mines, who formed a human chain to demand IIT-status for their institution. The Congress leader assured them that he would look into their demand. The media was not allowed at the meetings attended by Gandhi.