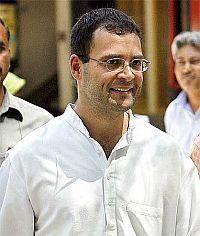 Brushing aside opposition's criticism that his visits to dalit households was a political stunt, Congress general secretary Rahul Gandhi on Wednesday said he doesn't believe in the caste system and his purpose was to reach out to the poor people.
"I personally don't believe in caste system...I go to a human being's house and not a dalit's house," he told mediapersons in Thiruvananthapuram.
He said it was the media which saw his trips to rural households as visits to dalit houses.
"The frame of dalit is your frame, not mine...I ask my office to arrange for my visit to a poor person's home in the poorest village. You see him as a dalit, I see him as a poor person," he said.
He said he meets a tea vendor and a university student on the same lines. "I don't ask him (tea stall vendor) whether he is a dalit...the difference is in the opportunities. They are as intelligent and as smart as you, but had no opportunity to go to a university-- that is the only difference," he said.
Replying to a question, he said his learning process will end the day 'I die.'
"The day I die I will stop learning. I hope I will continue to learn till the day I die," he said, adding, "learning is action and action is learning."
To a poser on the reaction of Uttar Pradesh Chief Minister Mayawati on his visits to poor households, he said he would continue with his programme despite protests by the Bahujan Samaj Party chief.
Image: Congress general secretary Rahul Gandhi