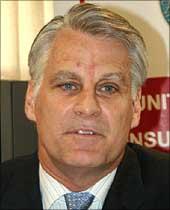 The US on Wednesday shared India's concern about the terrorist threat that could emanate from Pakistan and sought prosecution of seven suspects of the Mumbai attacks, including its mastermind and Lashkar-e-Tayiba founder Hafiz Saeed.
Pointing out that the US shared India's concern over the Mumbai terror attacks just as India shared the US concern over the 9/11 attack in his country, US Ambassador Timothy Roemer said, "It is very important that Pakistan prosecutes successfully the seven suspects of the Mumbai attacks, take the facts and evidence about Hafiz Saeed and prosecute him."
Addressing a press conference before winding up his two-day maiden visit to Kolkata, Roemer said his country's relations with India were based on trust and a shared strategic interest and geopolitical concerns.
"But above that is a shared agreement about the threat of extreme radicalism that can come from places like Pakistan. A couple of days ago, Defence Secretary (Robert) Gates said the epicentre of most radical extremism is centered on the border between Pakistan and Afghanistan," Roemer said.
The US was working very closely with India in unprecedented ways sharing information and intelligence about terrorist groups and terror suspects, he said.
Roemer said, referring to his visit to the US to discuss anti-terror cooperation, Union Home Minister P Chidambaram had held meetings at the highest levels of the government to get new information about terrorism and learn about the US National Counter-terrorism Centre.
Chidambaram had also discussed sharing more information about forensic laboratories, DNA and biometrics, the US envoy said. "There are few countries (like India) on our strategic cooperation of sharing more information in unprecedented ways," Roemer said. Pointing out that the Indo-US relations could be among the most important and positive relations in the world, he said apart from "going after the common threat", the US was also keen to see India grow economically.
Besides counter-terrorism, the US was also working with India in other strategic areas of partnership like health, employment and education reforms, Roemer said, adding, "we can do these things and at the same time, continue to go after the common threat."
Image: US Ambassador Timothy Roemer