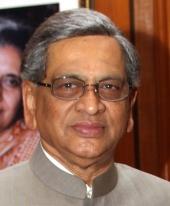 Disappointed at a Lahore high court's decision to scrap terror cases against Jamaat-ud Dawa chief Hafiz Saeed, India on Monday said it would take up the issue with Pakistan, as it had earlier made to understand that formal investigation would be conducted against him.
Maintaining that Pakistan should investigate Saeed in the Mumbai attack case, External Affairs Minister S M Krishna said India had provided evidence about his being the "brain behind" the strike but he was not booked in the case.
"Our talks with Pakistani foreign minister was somewhat on this line that formal investigation would be done on Hafiz Saeed with reference to Mumbai," Krishna told reporters referring to his meeting with Shah Mahmood Qureshi in New York on the sidelines of UN General Assembly last month.
"We will take up the matter with Pakistan government... We will certainly take up with Pakistan," Krishna said hours after the Lahore high court ordered quashing of two terror cases against Saeed, who had been booked for inciting people in the name of jihad and inviting funds for the same.
Krishna noted that Saeed was under clout for the inflammatory speeches he made in Jalalabad. "But, Hafiz Saeed, as far as my knowledge goes, was not probed by the Pakistani government for his role in the attacks on Mumbai though we still insist that the Pakistani government must investigate Haifz Saeed for the role he played."
"We have evidence. We have provided evidence that Hafiz Saeed was the brain behind the attacks on Mumbai," the external affairs minister said.
Despite India's insistence, Pakistan has refused to book Saeed in the Mumbai attacks case, saying there was no evidence to link him to the Mumbai attacks.
Asked if India's patience was running out, Krishna said, "Well, we are dealing with one of the neighbouring countries. I have always said it will take a lot of time and it will take a lot of patience for India to deal with the situation."
Image: External Affairs Minister S M Krishna