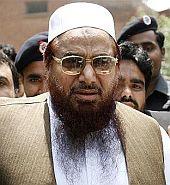 The Lahore High Court on Monday ordered the case against Jamaat-ud-Dawa chief Hafiz Saeed, the alleged mastermind behind the November 26, 2008 Mumbai terror attacks, to be disposed off, saying the country's anti-terror laws did not apply to him.
Saeed's lawyer A K Dogar said the case against his client was weak as it lacked credible evidence.
"There is no evidence against Saeed. My client was wrongly accused of terror," Dogar told a private news television channel.
He added that all notions regarding Saeed's involvement in terror activities, and particularly in the 26/11 Mumbai terror attacks, were false.
"He (Saeed) would be the last person to carry out a terror attack," Dogar said.
I am convinced that there is a difference between the type of Islam the Taliban espousing and what the JuD was promoting, he said, adding that those who followed Islam with piety and humility, including the Taliban, would soon see the benefit of joining hands with the JuD and end their terrorist and insurgent ways.
Earlier, Pakistan Interior Minister Rehman Malik had given an indication as to how the matter would proceed when he claimed that there wasn't enough evidence against Saeed, and that Islamabad would not be dictated to by India in this regard.
In an interview to The Daily Times, Malik had blamed New Delhi for the delay into the 26/11 probe, and said that Pakistan has done enough to bring the perpetrators to justice.
"Whatever we had committed with India, we have done it; in terms of bringing the accused to justice. We arrested the mastermind, it is another thing that they (India) are changing their statements," Malik said.
"First, the Indians were saying that Zakiur Rehman Lakhvi was the mastermind and then they started pointed fingers at Hafiz Saeed. It is an organised kind of campaign against Pakistan to counter and divert attention from Kashmir and the water issue," he added.
Pakistan had even rejected the sixth dossier received from India, saying that the contents provided in it were not enough to arrest or prosecute Saeed in a court of law and had asked New Delhi to provide more evidence in connection with the case.