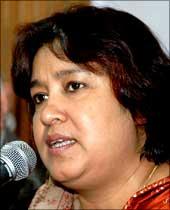 Exiled controversial Bangladeshi writer Taslima Nasreen has alleged in her website that she had come to India in August to stay, but the government had refused permission, forcing her to leave the country.
"She returned to India in August to see whether she can live even in Delhi, if not Kolkata. But the Government of India refused her appeal," says a posting on the website of the author who is currently staying in the US.
It says that the Indian government extended her residential permit "with a condition that she must not reside in India. She was forced to leave India again."
In August, the government had extended her residential permit for six months till February 16, 2010.
Taslima has been seeking permanent residency in the country but the government is yet to take a decision in this regard. The doctor-turned-writer, who regards Kolkata as her home, earlier had been expressing her desire to live in the City of Joy. She has been living in exile since 1994 after she was forced to flee from Bangladesh in the wake of protests by fundamentalists over her book 'Lajja' which highlighted the plight of Muslim women.
Taslima came to India in 2000 and had been living in Kolkata before she was forced out about two years ago, in the wake of violent protests by fundamentalist groups against her presence.
Since then she has been coming to India for short visits and stays at an undisclosed location. Earlier, she had said that she plans to return to India in January next year.
The feminist author also criticised Bangladesh government for not allowing her entry into her motherland. "She tried to go back to Bangladesh, but failed. The government of Bangladesh continued violating her right to return to her country," the website says.
Image: Bangladeshi writer Taslima Nasreen