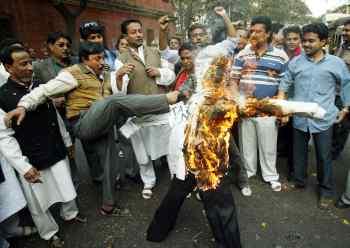 Controversial Bangladeshi writer Taslima Nasreen, who was dramatically bundled out from West Bengal in November 2007, returned to New Delhi on Thursday to seek an  extension for her visa, which is ending on August 17.
The 46-year-old Bangladeshi writer, who has been a target of Islamic fundamentalists, arrived at the Indira Gandhi International airport in the morning from a European country and was immediately whisked away by security agencies to an undisclosed destination, official sources said.
The future plans of the doctor-turned writer, who shot to fame with her controversial book 'Lajja', were not immediately known. Her visa is valid till August 17. She has been requesting for permanent residency in the country, but the government has not taken any decision on the issue.
Taslima had left India on March 18 last year for Sweden after she was kept in a safe house in the national capital for more than four months.
Taslima, who had not been allowed to meet any visitors during the period, had described her confinement as living in 'a chamber of death'. The papers for extending her visa had been moved and the nod for the extension was likely to be given by the government soon, sources said.
The sources said they were awaiting the government's order over the future course of action. She had earlier visited India in February, but was asked to leave immediately after visa was granted to her till August 17, because of the general elections in the country.
Taslima has lived in exile in many countries including France, Sweden and India since 1994.
During her stay in India in the last five years, she has periodically traveled abroad with the last trip being in November 2007, when she was asked to leave West Bengal. A recipient of various awards, Taslima was shifted from her Kolkata residence after violent protests marred parts of the metropolis over her controversial book 'Dwikhondito' (divided into two).
Certain references in the book had stirred a storm with some Muslim organisations demanding that she be asked to leave the state. Taslima was packed off from Kolkata and shifted to Jaipur. The Rajasthan government decided to shift her to Delhi after some Muslim organisations threatened state-wide protests against her stay there.
Despite the writer's wish to return to Kolkata, the Left Front government in West Bengal did not pay any heed to her request. The Bangladeshi author had said that she was 'forced' to depart from Kolkata at such a short notice that she did not have time to even change her clothes. A Swedish passport holder, Taslima flew to Sweden from Delhi on March 18 last year and was admitted to a hospital following health problems.
Image: A file photograph of an angry protester kicking a burning effigy of exiled Bangladeshi author Taslima Nasreen in Kolkata
Text: PTI | Photograph: Jayanta Shaw/Reuters