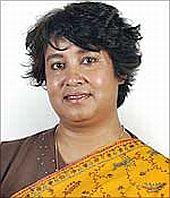 The Centre has extended the visa of controversial Bangladeshi writer Taslima Nasrin for six months till February 16 next year.

Nasrin, who was asked to leave India in March this year, returned on August six and was whisked away to an undisclosed destination in the Capital.

The writer, who will turn 47 on August 25, had sought extension of her Indian visa which expires on August 17.

Her visa has now been extended till February 16, 2010, official sources said.

The future plans of the doctor-turned writer, who shot to fame with her controversial book "Lajja", were not immediately known. But sources said she conveyed to Indian officials that she did not wish to live in India for a longer term now and will soon leave the country.

The writer, who has been a target of Islamic fundamentalists, arrived in Delhi from a European country.