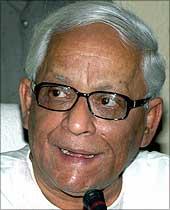 The joint anti-Maoist operations by the Central paramilitary forces and the police in West Bengal will continue with the Centre deciding to keep 17 companies of its forces stationed in the state.
"My only demand was that the 17 companies (about 1,700 personnel) continue to remain stationed in the state and carry out the joint operations with the state police. The home minister (P Chidambaram) has accepted it," said West Bengal Chief Minister Buddhadeb Bhattacharjee at a press conference in New Delhi.
The decision came after Bhattacharjee met Prime Minister Manmohan Singh on Monday and Home Minister P Chidambaram and Finance Minister Pranab Mukherjee on Sunday. Bhattacharjee strongly recommended continuance of the joint operations in his state along with simultaneous action in Jharkhand saying the West Bengal police would otherwise not be able to consolidate the gains made against the Maoists in West Midnapore, Purulia and Bankura.
"Without simultaneous operations in Jharkhand, it will be difficult for the police to hold on to the gains," he said, adding that the security forces would soon start operations in areas bordering Jharkhand, where most of the Maoist infrastructure, training camps and strongholds are located.
Bhattacharjee's meeting came days after the prime minister said talks could be held with the Left extremists only if they lay down arms. "This has been my consistent position too," he said.
Bhattacharjee described Union Railway Minister Mamata Banerjee's remark as "juvenile disorder" after she demanded his arrest saying there was violence in the state whenever he was away.
"I don't reply to such questions (on Banerjee's reported charge). It is a case of juvenile disorder," Bhattacharjee told reporters.
To a question on Trinamool Congress chief's opposition to the joint operations against the Maoists, he said, "It is unfortunate. A Union minister should not speak such a language, especially when the prime minister himself has called the Maoist threat as the greatest challenge to internal security.
"When the prime minister himself is making an observation, ministers should follow," he said.
"I have been trying to avoid comments on what the railway minister says. I don't take it seriously," he said.
On Maoist leader Kishenji's statement that he had spoken to Bhattacharjee, the chief minister said, "He is a liar. He says I have had a telephonic talk with him. How can a liar be a leader of a party?"
He reiterated his earlier position that talks with the Maoists could be held only if they gave up violence.
Image: West Bengal Chief Minister Buddhadeb Bhattacharjee