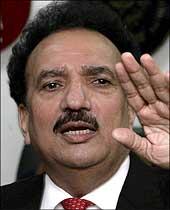 Hours after a suspected Taliban suicide bomber detonated his vehicle in Peshawar killing 49 people, Pakistan's Interior Minister Rehman Malik on Friday said the government had no option but to strike back on the militant stronghold of south Waziristan.
"We have no other option but to carry out an operation in south Waziristan," the interior minister told a private television channel after the attack. In another major development, Malik announced that Pakistani investigators have arrested the handler of the suicide bomber,who struck the office of the United Nations food agency in the federal capital earlier this week, killing 5 people.
"The main handler has been arrested and we have information about who planned the attack and gave the instructions," Malik told reporters outside the Parliament.
Elaborating on the new offensive, Malik said, "All routes led to south Waziristan. We will have to proceed."
He is the first civilian leader to indicate that a massive campaign by the security forces is in the offing in Waziristan. The Pakistan army has amassed troops and armour around south Waziristan and enforced a total blockade of the region for the past couple of months.
The military has carried out a number of air strikes on the region and sent probing expeditionary army missions.
Turning to investigations into the suicide bombing of the UN World Food Programme Office, Malik said the police have found out how the suicide bomber reached Islamabad and also identified the car used by him and the handler.
"We also have information about the persons involved in executing the terrorist plan and facilitating the terrorists," he said. Malik said investigators had uncovered more links, but declined to give details, saying this could affect the probe.
Five persons, including an Iraqi national and two women, were killed when the suicide bomber struck at the World Food Programme office on Monday.
The attacker, who was disguised as a paramilitary trooper, gained entry to the heavily guarded building by telling private security guards that he wanted to use the toilet.
Malik said law enforcement agencies have arrested 58 terrorists in Islamabad and its surrounding areas in recent months. Replying to a question on the situation in the troubled tribal areas bordering Afghanistan, Malik said the Taliban are present in the region and a military operation against militants in south Waziristan was on the cards due to demands from the public.
The date for launching the operation will be finalised within the next few days.
"After the successful operation in Swat, there is an overwhelming public demand for an operation to eradicate the Taliban from the Federally Administered Tribal Areas too. They have paralysed daily life in these poverty-stricken areas," he said.
"So far, four jirgas (tribal councils) have called on government officials and insisted that an operation should be launched in their areas," Malik added.