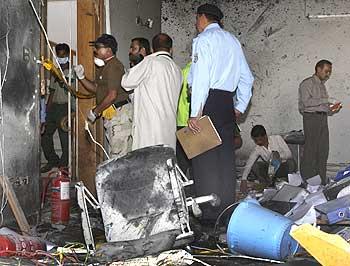 The Pakistani Taliban has claimed responsibility for the bloody suicide bombing of the United Nation food agency's heavily fortified office in Islamabad in which five people were killed, claiming that the world body was working for the United States' interest.
The attack which also left six people wounded has led to the UN office downing its shutters temporarily to undertake a review of its security setup.
"We take the responsibility for the suicide attack at the UN office in Islamabad," a Taliban spokesman Azam Tariq said and vowed to send more bombers for more such attacks.
He said international relief work was 'not in the interest of the Muslims' and described UN as 'slaves of US.' Tariq accused the UN of shutting its eye to what it called atrocities being committed against ethnic Pashtuns tribal regions on the Afghan border, an apparent pointer to US drone attacks in the area which have killed large number of wanted terrorists.
The Taliban spokesman said the organisation's future target would include Pakistani security and government officials, government installations and American interests.

Image: Police and security forces survey U N World Food Programme offices in Islamabad after a suicide bomb attack on Monday.
Photographs: Reuters
Text: PTI