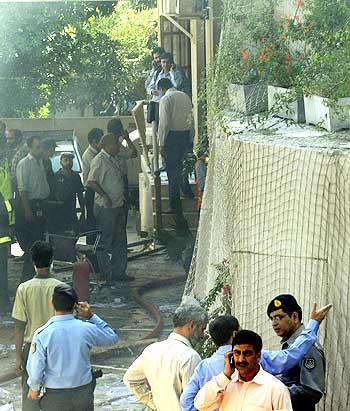 The United Nations on Monday closed all its offices across Pakistan after a suicide attack on a World Food Programme office in the heart of the federal capital killed four persons, including an Iraqi national.
"In light of this incident, all UN offices in Pakistan have been closed till further notice," said a statement issued by the UN.
Earlier, UN spokesperson Ishrat Rizvi had told reporters that all UN offices in Islamabad and the nearby garrison city of Rawalpindi had been closed. Rizvi said the UN will attempt to continue its operations, including humanitarian relief programmes, despite the closure of its offices.
Besides the Iraqi national, two Pakistani women working for the WFP were among those killed in the suicide attack. At least six others were injured when the attacker, who was disguised as a paramilitary personnel, blew himself up in the lobby of the WFP office just after noon.
The attack occurred hours after UN Under-Secretary General for Peacekeeping Operations, Alain Le Roy, arrived in Islamabad for a series of meetings with government officials and national authorities.
Two other UN employees were killed in a suicide bombing of a five-star hotel in Peshawar in June.
UN's Pakistan resident coordinator Fikret Akcura condemned the attack and expressed sorrow at the loss of lives.
"This tragic and reprehensible attack is particularly deplorable given the fact that the UN staff have worked tirelessly to feed the impoverished and displaced persons in Pakistan," Ackura said.
"There is no possible justification for this shocking crime against humanitarian workers here only to help the people of Pakistan. We urge Pakistani authorities to place their full attention on arresting the perpetrators who planned and implemented this horrendous act of terrorism," he said.
UN chief Ban Ki-moon said the 'heinous crime' was 'unjustifiable'. "I condemn (it) in the strongest of terms," he said.
The UN WFP Deputy Executive Director Amir Abdulla said in a statement from the agency's Rome headquarters, "This is a terrible tragedy for the WFP and for the whole humanitarian community in Pakistan".
The WFP has been feeding up to two million people, displaced by military operations against the Taliban in the northwestern Swat valley and nearby areas, since May. The WFP, which has nearly 500 international and Pakistani personnel, also provides monthly food rations to some 100,000 people.
Image: Policemen, rescue workers and UN employees near the site of the blast inside a UN compound in Islamabad | Photograph: Reuters