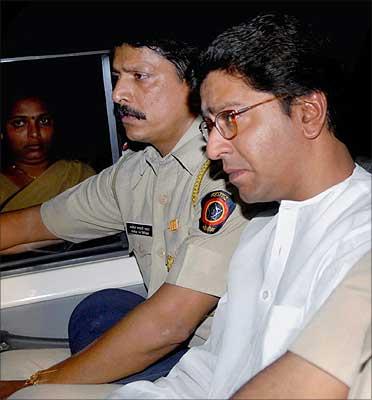 Maharashtra Navnirman Sena chief Raj Thackeray has stressed the need for overall change in Maharashtra as since the state's formation development was halted.
"Maharashtra needs an overall change. All development has come to a standstill since the state's formation," the fireband MNS leader said addressing an election rally in support of party nominee for Nashik-Central Vasant Gite.
Raj criticised Union Energy Minister Sushil Kumar Shinde, who had announced free-power to the farmers during the 2004 Assembly elections to woo the voters, saying "in Maharashtra nobody wants free power. Farmers, consumers all are ready to pay electricity charges but want uninterrupted power supply."
Raj lauded the role of Gujarat Chief Minister Narendra Modi in ushering in a new era of development in his state.
"The Maharashtra government is allotting 300 square feet houses for outsiders but policemen performing their duties are not getting accommodation," he alleged.
Raj also addressed election meetings at Nashik road, Devlali during his two-day tour to Nashik.