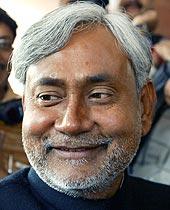 The banned Communist Party of India - Maoist has threatened to kill Bihar Chief Minister Nitish Kumar if two of their top leaders were not released from prison immediately, official sources said on Friday.
'Dabloo', a naxalite leader, in a sms to a reporter of a private TV channel, claimed that the Maoists planned to kill the chief minister, State Home Department Principal Secretary Amir Subhani said.
The message demanded the release of Naxal leaders 'Raviji' and Diren Singh.
"Director General of Police Anand Shankar and Inspector General of Police (Operations) S K Bhardwaj are probing the issue," Subhani said.
"We have tightened the security for the CM," he added.