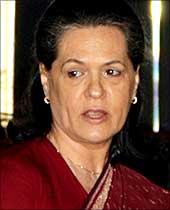 Even as the Congress-Nationalist Congress Party coalition government in Maharashtra is drawing flak over the rising cases of farmers' suicides, United Progressive Alliance chairperson Sonia Gandhi on Wednesday promised crop loans at three per cent interest rate to overcome the agrarian crisis.
Addressing her first election rally in the Vidarbha region, which has been rattled by a series of suicides by debt-ridden farmers, the Congress president said if the party-led Democratic Front government retained power in the state, it would give farm loans on three per cent interest rate.
Besides, the DF government will give 25 kg of foodgrains to the poor at the rate of Rs three per kg every month and build 10 lakh dwellings for them.
She lauded the efforts of the Congress-led UPA government at the Centre for efficiently handling the agrarian problem, saying it took the historic decision of waiving farm loans of a whopping Rs 71,000 crore to help small and marginal farmers.
Reaffirming the Congress' commitment to protecting the interests of the common man, she said the UPA government's flagship National Rural Employment Guarantee Act scheme reflected that resolve as four crore rural poor were being provided employment across the country for 100 days in a year.
Recalling former Prime Minister Rajiv Gandhi's contribution to nation-building, she said it was because of his vision that information technology had brought about a revolution in the country.
Stating that the UPA government at the Centre was committed to urban development through execution of the various schemes under Jawaharlal Nehru National Urban Renewal Mission, she praised its performance, particularly in the fields of technology and education.
In a veiled attack on the saffron alliance partners --the Bharatiya Janata Party and the Shiv Sena -- she said, "Some opportunist parties want to destroy your peace and harmony since they lack the vision for development."
The Congress president asked the electors to vote for the Democratic Front nominees as the ruling alliance was pursuing "honest politics of development".
Talking about strengthening the Panchayati Raj system and the issue of women's reservation, she said after introducing 50 per cent quotas for women in Panchayati Raj institutions, the UPA government was keen on providing 33 per cent reservation to them in the Parliament.