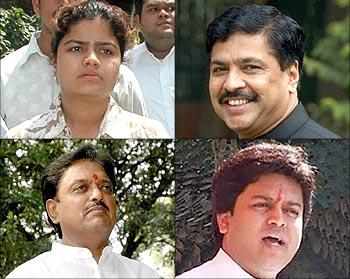 Keeping up the trend of power legacy in Indian politics, at least 20 candidates contesting in the forthcoming Maharashtra [ Images ] assembly elections are sons and daughters of prominent political leaders.
Prominent among them are Rajendra Shekhawat, son of President Pratibha Patil [ Images ], Praniti, daughter of Union Minister Sushilkumar Shinde, Amit, son of another Union Minister Vilasrao Deshmukh [ Images ], and Poonam, daughter of late Bharatiya Janata Party [ Images ] leader Pramod Mahajan [ Images ].
Friday was the last date for filing the nomination papers. The candidature of Praniti and Amit was cleared late on Thursday night after keeping them on tenterhooks for some time.
While Amit will contest from Latur City constituency, Praniti will be in the fray from Solapur Central. Both the seats have been pocket boroughs of their fathers.
Shekhawat's candidature from Amravati in Vidarbha region has evoked strong protests from Maharashtra minister Sunil Deshmukh, who has been representing the seat for 10 years.
Sources close to Shekhawat claim that he was given the ticket as his father Devisingh Shekhawat had been chosen from the constituency around two decades ago.
The opposition alliance too has been hit by the legacy trend, with Gopinath Munde [ Images ] bringing in his daughter Pankaja Palve from Parli in an apparent move to keep the seat within the family, even if he became the chief minister.
A former deputy chief minister, Munde is a BJP Lok Sabha Member of Parliament from Beed.
Munde's elder brother's son-in-law Madhusudan Kendre has been nominated from Gangakhed, while his niece Poonam Mahajan-Rao has been fielded from Ghatkopar West in Mumbai [ Images ].
The Shiv Sena [ Images ], leading the opposition along with the BJP, has been least affected by dynastic politics with only former Union minister and party MP Anand Adsul's son Abhijeet contesting from Daryapur.
But the Sena has been facing a different kind family problem with the emergence of Maharashtra Navnirman Sena, floated by Raj Thackeray [ Images ] after he was denied leadership by his uncle and Sena supremo Bal Thackeray [ Images ].
The Sena mantle has now been taken over by Uddhav, son of Balasaheb, who has now taken backseat following ill health.
The Sena has fielded Kalpana Patil, wife of party MP Shivaji Adhalrao Patil, from Ambegaon in Pune district.
It fielded Vaibhav Niko, nephew of late Congress leader Sridhar Naik, from Kudal, a stronghold of senior Congress leader Narayan Rane [ Images ], a former Sena chief minister.
The Sena has also nominated Om Raje Nimbalkar, son of murdered Congress leader Pawan Raje Nimbalkar, from Dharashiv constituency in Marathawada region.
Nationalist Congress Party leader Daulatrao Aher, who joined the BJP a few days ago, has managed to get a BJP ticket for his son Rahul from Nashik West.
Pankaj Bhujbal, son of Deputy Chief Minister and senior NCP leader Chagan Bhujbal [ Images ], is the party nominee from Nandgaon constituency in Nashik. Chagan is in the fray from Yeola in the same district.
Incidentally, Chief Minister Ashok Chavan [ Images ] under whose leadership the Congress is going to polls, is the son of the late S B Chavan, who had been a chief minister.
NCP supremo Sharad Pawar's [ Images ] nephew Ajit Pawar has emerged as a leader in his own right in the state after representing uncle's pocket borough of Baramati for several years.
The NCP chief's daughter Supriya Sule represents Baramati Lok Sabha, the seat held by him for a long time.
Rajendra Gavai, one of the leaders of the newly formed Third Front in the state, is the son of Kerala [ Images ] Governor R S Gavai, who had earlier been the president of a Republican Party of India [ Images ] faction.
Some other kin figuring in the Congress list include Nirmala Gavit, daughter of party MP Manikrao Gavit, from Igatpuri-ST seat. Rohit Deepak Tilak, great grandson of Lokmanya Tilak, has been fielded from Kasba Peth in Pune city.
Other sons nominated by the Congress include Rajubaba Awale, son of party MP Jayawnatrao Awale from Hatkangale-SC, Rahul Puglia, son of senior leader Naresh Puglia from Ballarpur, Shekhar Shendge, son of Pramod Shendge from Wardha, and Sangramdada Thopte, son of Anantrao Thopte from Bhor.
Madan Bhosale, son of former Pradesh Congress Committee chief Prataprao Bhosale, who had been an independent MLA, has been nominated from Wai.
Image: (From left, clockwise) Poonam Mahajan [ Images ], her father and late BJP leader Pramod Mahajan, Amit Deshmukh and Union Minister Vilasrao Deshmukh.