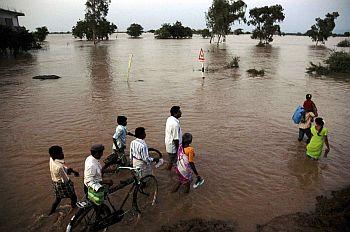 The Centre on Tuesday assured flood-ravaged Karnataka and Andhra Pradesh that funds will not be a constraint for relief and rehabilitation and asked them to focus on providing succour to the affected people.
Union Home Minister P Chidambaram, who visited the flood-hit areas of the two states, said the state governments may utilise the Calamity Relief Fund immediately and once 75 per cent of CRF is exhausted, the states may draw on the National Calamity Contingency Fund.
"Advances from NCCF will be provided. As soon as the state government concerned is ready to receive the Central team, a team will be sent to the state to assess the damage according to well established norm," he said in a statement.
"I wish to assure the state governments that availability of funds will not be a constraint and that they should focus on providing relief to the affected people," he said.
The measures have been taken after consultation with Prime Minister Manmohan Singh, the statement said.
Chidambaram said further measures would be considered on the return of Finance Minister Pranab Mukherjee from his trip abroad on Wednesday.
"We have advised these interim measures in order that rescue and relief operations should continue without hindrance," he said.
Heavy rains and floods over the past week have spread havoc across Andhra Pradesh, Karnataka and Maharashtra, and so far have claimed over 240 lives.
Floodwaters from the Krishna river have cut the town of Vijaywada off from the rest of Andhra Pradesh.

The Krishna river contains over 10 lakh cusecs of water received from the Nagarjuna Sagar Dam. Vijaywada' s Prakasam Barrage has not received this much water in over a decade.
The water level touched 21.4 feet at Prakasam Barrage and all the 72 sluice gates have been lifted to let the water out into the Bay of Bengal.
Chodavaram village, which is located on the downstream of Prakasam Barrage, is about to be submerged. However, there is no threat to lives as the district administration is shifting people residing in lower areas to safer places. Two more villages near Thotalvalluru also face a severe threat as river embankment is found to be weak.
The situation has improved in Karnataka. State Chief Minister B Y Yeddyurappa announced that his government would construct over 2,00,000 houses for flood affected people.
Torrential rains over last one week have left over 200 people dead and rendered over 3,00,000 people homeless in the state alone.
The floods have affected all 14 districts of state's northern region. Prime Minister Dr Manmohan Singh, is likely to undertake an aerial survey of the flooded-affected regions of the state on Tuesday.
Officials in Bengaluru said the bodies were recovered late on Monday evening from the districts of Bellary, Uttara Kannada, Raichur, Dharwad, Koppal and Gadag among others.
Text: Agencies
Image: People wade through floodwaters in Andhra Pradesh on Monday
Photograph: Reuters