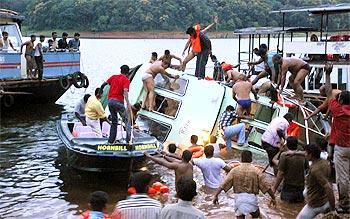 The Kerala Crime Branch will investigate the boat mishap at Thekkady, in which a tourist boat owned by the Kerala State Tourism Development Corporation capsized on Wednesday, claiming the lives of 41 tourists.
State Director General of Police Jacob Punnose told media persons that the Superintendent of Crime Branch (Kottayam) Valsaraj will be the investigating officer in the case. He added that Inspector General of Police R Sreelekha will be in charge of the investigation.
The crime branch SP will start recording the statements of the survivors of the mishap who are currently recuperating in various hospitals.
The DGP said that as most of the witnesses are tourists from different states, the investigation would be a cumbersome process, and this is why the case was being handed over to the Crime Branch.
Meanwhile, search operations for four missing victims resumed on Friday morning, and naval divers have been pressed into service. Idukki District Collector Ashok Kumar Singh will submit a detailed report to the government on the reasons that caused the boat mishap.
Image: Rescue workers stand over the capsized boat on Periyar lake in Thekkady on Wednesday | Photographs: Reuters