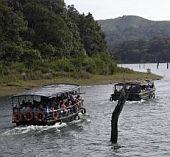 Tragedy struck a group of tourists on Wednesday evening when about 30 of them drowned after the boat they were travelling in capsized in Thekkady lake in Kerala's Idukki district while 40 others were rescued.

The boat, with about 80 passengers onboard, mostly tourists from outside Kerala, sank after cruising five km from the boarding point from where it had set out around 4 pm.

The deceased included eight women and six children, Idukki SP Chellappan said, adding all the 20 bodies have been recovered.

Forty people were rescued and the condition of six of them was stated to be critical, district officials said.

The tourists on Kerala Tourism Development Corporation's 'Jalakanyaka' boat were on a tour of the wildlife sanctuary along the lake.
Sources living near the spot told rediff.com that there had been heavy winds at the time of the tragedy and this could also have been a reason for the mishap.
The police and the naval divers are still searching for those missing in the lake.
State Tourism Minister Kodiyeri Balakrishnan said officials of the district administration and forest department had reached the site and rescue operations were on. 

Besides state forces, a team of 40-50 navy divers have been rushed to the spot from the Southern Naval Command at Kochi, 150 km from the lake, naval sources said.

The injured had been rushed to nearby hospitals, officials said.

This is a first major boat tragedy in the state after the boat carrying school children capsized at the Thattekkad Bird Sanctuary in Ernakulam district a few years back which claimed 22 lives, most of them primary students.
Official sources said the possibility of foreign tourists being among the victims could not be ruled out.

Top police officials said several boats with rescue guards and generators for providing light had been sent to the spot where the boat sank, they said.

Expressing shock over the tragedy, Defence Minister A K Antony said from New Delhi that navy and other forces had been instructed to render all possible help in the rescue work.
Chief Minister V.S.Achuthanandan and leader of the state opposition Oomen Chandy has requested the Union government to provide the necessary naval resources from their base at Kochi.
The defense minister's office told rediff.com that naval divers had been deployed for the operations.
With agency inputs