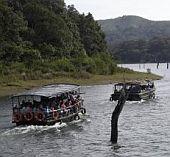 The death toll in the Thekkady boat tragedy in which a tourist boat owned by the Kerala State Tourism Development Corporation capsized, has risen to 38.
The boat, which had a capacity to seat 28 in the lower deck and 27 in the upper deck, was carrying around 78 tourists at the time of the incident.

Survivors of the ill fated boat told rediff.com over telephone that the driver had suddenly shifted the boat to the right, which had resulted in the toppling of the boat creating several problems on the same. The driver and other crew in the boat swam to their safety.
Idukki district collector Ashok Kumar Singh told rediff.com that rescue operations were on in full swing and the local people were in the midst of providing safety to women and children during the calamity.
State Home Minister Kodiyeri Balakrishnan who is also in charge of the Tourism department told rediff.com that he had directed the Idukki district collector to be on the guard and to coordinate the relief operations.
Three persons are still feared missing after the KTDC boat, pressed into service just one month back, sank after cruising five km from the boarding point in Thekkady from where it had set out around 4 pm, a district administration official said.
The tourists were mainly from outside Kerala, hailing from Karnataka, Tamil Nadu and Andhra Pradesh. Some victims hailed from Delhi, Punjab and Kolkata.

Unconfirmed reports said a male foreigner, whose nationality was not immediately known, was among the victims.

Rescue efforts were hampered as darkness fell and also due to the cold waters. The boat was half submerged in the mishap.