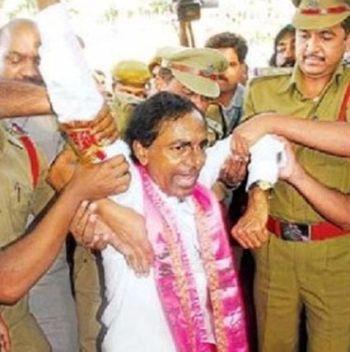 Telangana Rashtra Samiti president K Chandrasekhar Rao was on Sunday detained near Karimnagar ahead of his proposed fast unto death for separate Telangana.
KCR, as the TRS president is popularly known, was arrested soon after he left North Telangana Bhavan in Karimnagar to go to Siddipet, where he was to sit on fast-unto-death, surrounded by thousands of his supporters.
As the police stopped his convoy, KCR along with other senior party leaders of his party came down and sat on dharna on the main road, as a large number of workers shouted slogans in support of separate Telangana state against the police.
The police bodily lifted KCR and other leaders and whisked them away amid tight security.
KCR was driven straight to Khammam district, where the police produced him before the second-class magistrate court and was remanded to 14 days judicial custody.
The Khammam police has booked charged KCR under sections 114, 117, 153 A, 505, 506 and several other sections of the Indian Penal code for provocative speeches and spreading violence. Later he was shifted to Khammam sub jail.
KCR announced that he would continue his fast unto death in the jail.
Expressing anger over the detention of Rao, the TRS called for a bandh in Telanagana region on Monday.
"This is undemocratic. Our party president wanted to undertake a fast but police detained him. We have appealed the people to observe bandh in Telanagana tomorrow," TRS floor leader in the assembly E Rajender told reporters at Karimnagar.
Image: Police arrest K Chandrasekhar Rao on Sunday