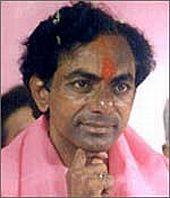 After a poor show in the elections and criticism over his style of functioning, Telangana Rashtra Samithi chief K Chandrasekhar Rao has raked up a controversy by talking of "a militant way of struggle" to achieve a separate Telangana state.
"We have to step up our fight for Telangana. We have to fight for our students, for our workers, to protect our interests. Let's start even militant way of struggle if it is necessary," he told a party workers meeting on Sunday.
Seeking to reassure party leaders and workers, he said he would be accessible to all and work for the attainment of Telangana.
Criticising Rao for his remarks, Bharatiya Janata Party spokesman Rajiv Pratap Rudy, who is in Hyderabad, said while the demand for Telangana was legitimate, "there is no scope for violence".
Rudy said that the TRS chief's remarks could vitiate the whole democratic process.
"While the BJP is in full support for Telangana, we shun violence, we condemn violence and there is no scope for violence in democracy," he said.
Rao's remarks came against the backdrop of a rebellion by his party leaders who came down heavily on his "unilateral" and " laid back" leadership.
While some leaders suspended from the party have joined Congress, others continue to criticise him.